Absolute Catering was established in September 2009, by proprietor and Head Chef Petr Simon.
This catering company has come a very far way in a relatively short space of time. After its initial inception, Absolute Catering went through a rough time due to the worldwide economic recession, but it has come through that and has now firmly established itself in the market place.
Functions to date include high profile weddings with 400 guests, banquet type meals, sit down French
cuisine plated dinners, cocktail parties, and buffet breakfasts, lunches or dinners.
Absolute Catering provides a fresh continental breakfast as well as cooked lunches to various companies and training institutions on daily basis.
If you require any additional information or would like a free quotation, please do not hesitate to contact us.
Chef Petr Simon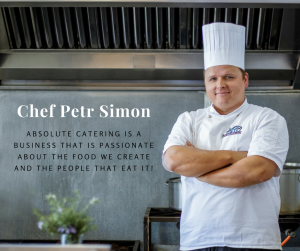 Petr Simon was born in the Northen Czech Republic City called Liberec. His passion for food  led him to begin his studies at Hotel School which he successfully completed in 1999.
After the completition of his studies he worked in small mountainous resort for a period of
a year, shere he was offered a position at the prestigious upmarket Chateaux Restaurant and
Catering Sychrov. Catering Sychrov is considered to be the top establishment in Northern Bohemia. Here he spent 3 enjoyable years as an Executive Chef.
Petr began travelling in 2004 as he desired to see what culinary and life experience the world had to offer him. He travelled to England where he lived and worked as a chef for a period of 2 years. After arriving in Cape Town, Petr was soon offered a job at a prominent Cape Town restaurant where he was soon made Head Chef and took on other responsibilities related to both restaurant and catering management. This man from Czech Republic has developed the sills and experience to make food fit for Kings, but he just feels like a guy who gets to do what he loves every day of his life. Petr always dreamed about opening his own catering company and in 2009 he made his dreams a reality by opening the doors to Absolute Catering. When asked what keeps him going, Petr simply states:
"I´m the lucky one, my job is my hobby, and nothing makes me happier than seeing the smiles on the faces of my satisfied customers."